Why?
In a fluctuating global environment, control over the preservation of a company's distinctive signs is essential for promoting and ensuring compliance with acquired rights, and the logical consequence of protection through trademark registration.
Contrary to what our clients sometimes think, the majority of trademark offices do not carry out any monitoring and consider that it is the responsibility of the rights holder to ensure preservation of their title.
We recommend monitoring actions in order to ensure that no third party is able to create any confusion with your distinctive signs and can intervene as quickly as possible. This generally enables the dispute to be resolved out-of-court and for any commercial prejudice to be reduced.
How?
Through technical providers, we carry out the following actions:
Trademark oversight :
Monitoring of the trademark in the countries identified and warnings about trademarks registered by your competitors, or on similar trademarks
Determination of actions to be carried out for the most efficient defense of your rights
For the monitoring of trademarks, we filter the results received and send them with a notice for action/information depending on the trademarks detected.
The annual monitoring of a trademark for a country costs less than €200 (excluding tax).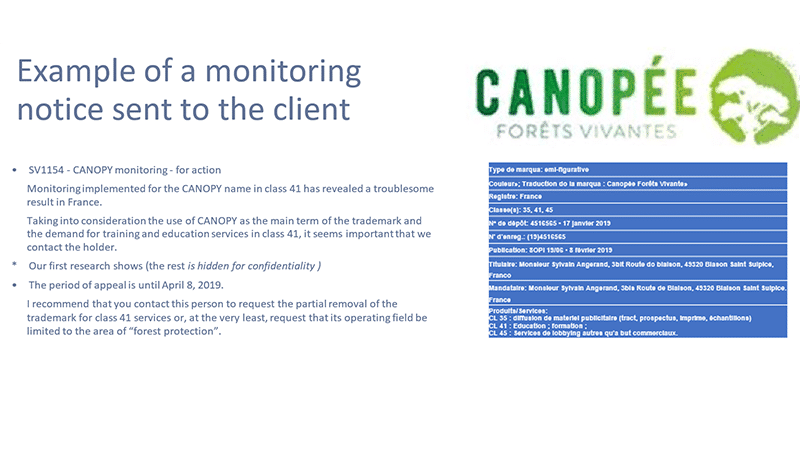 Web  monitoring
If we do not carry out any monitoring of counterfeit products for the retail trade, on markets or trade shows, we can ensure monitoring of the main e-commerce places and send you a monthly table with links for opinion and actions.
We also propose:
Monitoring of the reservation of your domain names by third parties
Continuous monitoring of specific sites
Customs  control
The preparation and submission of monitoring files with customs which enables products to be blocked directly or to request that customs intervene in warehouses, for example
Competitor  monitoring
Monitoring of titles (trademarks, designs and models) filed by your competitors or in a specific field of activity.